Today was a super fun Halloween day!!!! Our city puts on a Trick or Treat Village every year. There are carnival games, crafts, a trick or treat spooky village and outside play structures (bounce house, bouncey slide, etc.). The kids get to wear their costumes and have fun and...of course...get candy. It was raining all day today, so the outside playing was cut short, but the kids had a ball with everything else!
First things first. My mom sent us this 6 foot tall, mechanical pumpkin snowman contraption. The largest pumpkin head spins and a cat jumps out of the other pumpkin. It's pretty crazy, but my DH put it up today. The kids just LOVE it and it's the hit of the neighborhood!!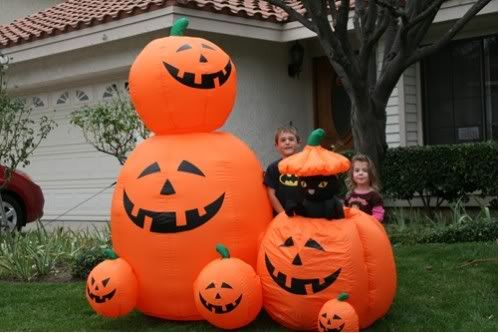 So, my little devil and mermaid dressed up for Trick or Treat Village. The devil costume has been in my family for years. My youngest sister and brother both wore it when they were his age. It's just adorable. And K wanted to be a mermaid...NOT Ariel...just a mermaid. So particular for such a young age!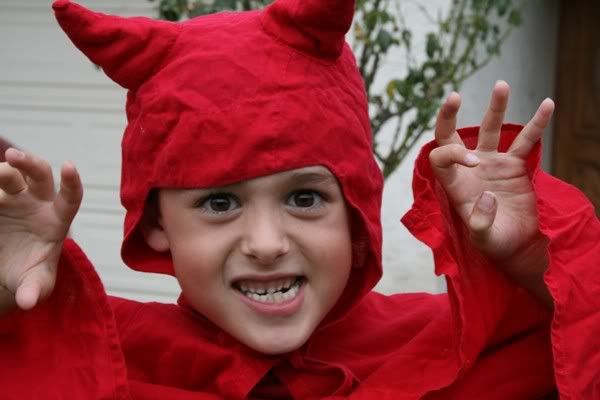 On the way to the festivities, my DH thought my son's costume wouldn't be complete without a 6 foot tall pitchfork. So we swung by the Halloween store (which was packed with adults trying on costumes in the aisles, last minute purchases for Halloween parties tonight!) and got him a pitchfork. Let me tell you how many people got poked or hit or swung at with that thing....but just by Accident (he tells me).
We met some friends there and everyone looked so great in their costumes! Check out Jack Sparrow!!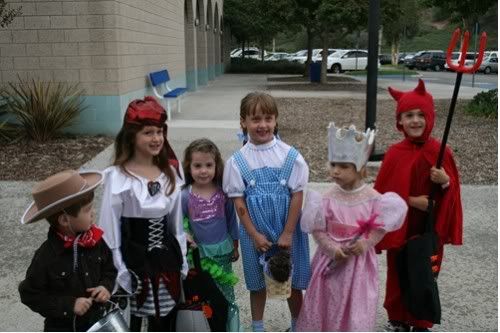 Too fun. The kids are now tucked away for the night and I am exhausted. I ran 13 miles this morning and boy and I tired!! We will be carving pumpkins tomorrow, so look for more photos soon!!!