I wanted to share a layout that I did back at a scrap retreat last December. I played alot with the Offbeat line from Basic Grey, I just love it. I'm still playing with the scraps!! This is pic of my son at a ballgame in San Francisco. We were at AT&T park watching the Giants play the Dodgers. It's the most gorgeous ballpark in the world. Right on SF Bay, looks out over the water, just beautiful. We were on the side of the ballpark and my son was looking out over the field. I just caught him with the Bay Bridge in the foreground. I so wish I knew what he was thinking??? Maybe if he was wondering if he'd ever be a big time ballplayer?? Or maybe just thinking about asking for more cotton candy!! LOL!!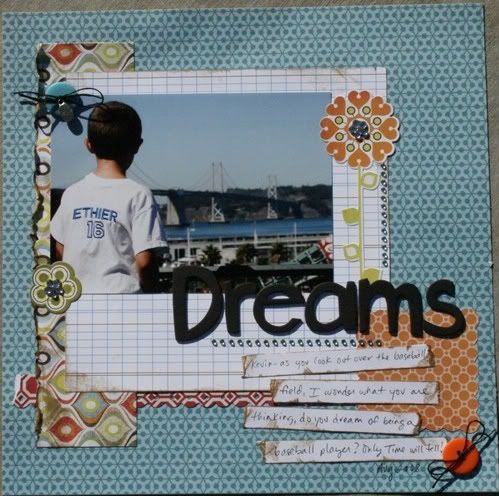 That's about all I have today. It's been a busy week and there is no break in sight. Lots of baseball and softball and birthday parties this weekend. I do want to give a shout out to my youngest brother. It was his birthday yesterday, so Happy Birthday Paul!!! Hope you had a great day!
He's a fantastic cook, here are some vegan donuts he made at Christmas time. Yum-O!!!
Hope you're having a good week, everyone!